Our Programs
Our Rich and Diverse Available Programs for everyone.
Culinary Programs at CoCAHM
At CoCAHM, we offer a range of comprehensive culinary programs designed to ignite your culinary passion, hone your skills, and prepare you for a rewarding career in the culinary arts and hospitality management.
Culinary Arts
Unlock the secrets of the kitchen in our Culinary Arts program. Master classic and contemporary culinary techniques, explore global cuisines, and create culinary masterpieces. Whether you dream of becoming a renowned chef or owning your restaurant, this program is your culinary foundation.
Baking & Pastry
Indulge your sweet tooth and perfect your baking skills in our Baking & Pastry program. From delicate pastries to artisan bread, you'll learn the art of creating delectable desserts and baked goods under the guidance of seasoned pastry chefs.
Food & Beverage Management
Step into the world of hospitality with our Food & Beverage Management program. Discover the ins and outs of restaurant management, beverage service, event planning, and customer experience. Launch your career in the dynamic hospitality industry.
Floral Decoration & Event Management
Turn your passion for creating unforgettable experiences into a career with our Event Management program. Learn event planning, coordination, and execution while exploring the art of culinary event design. Be the mastermind behind remarkable events.
Ongoing Courses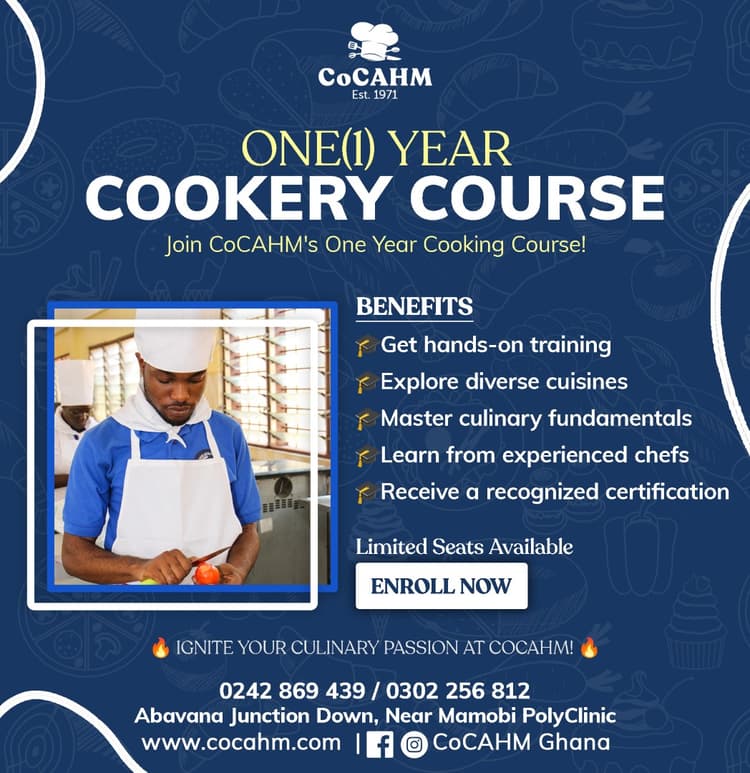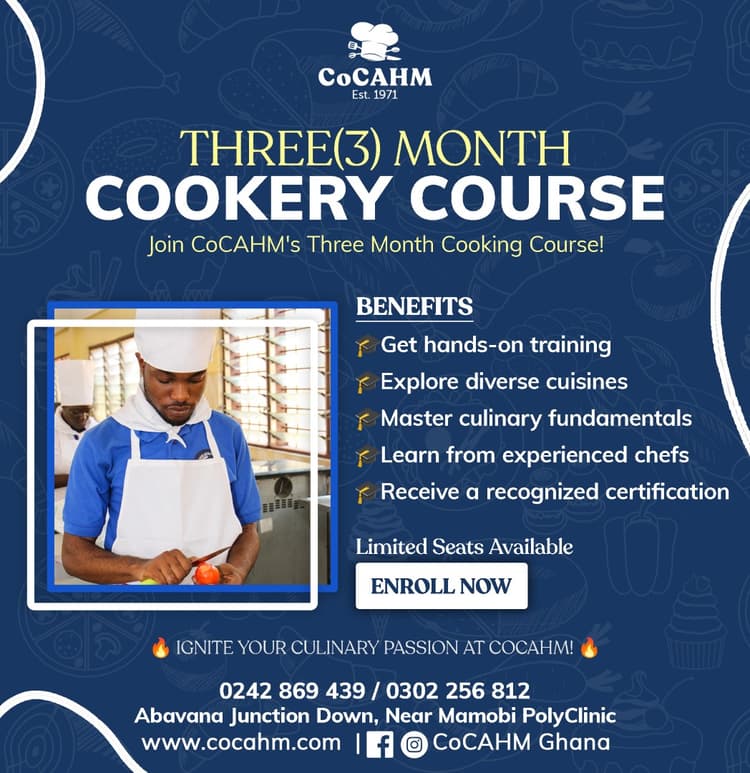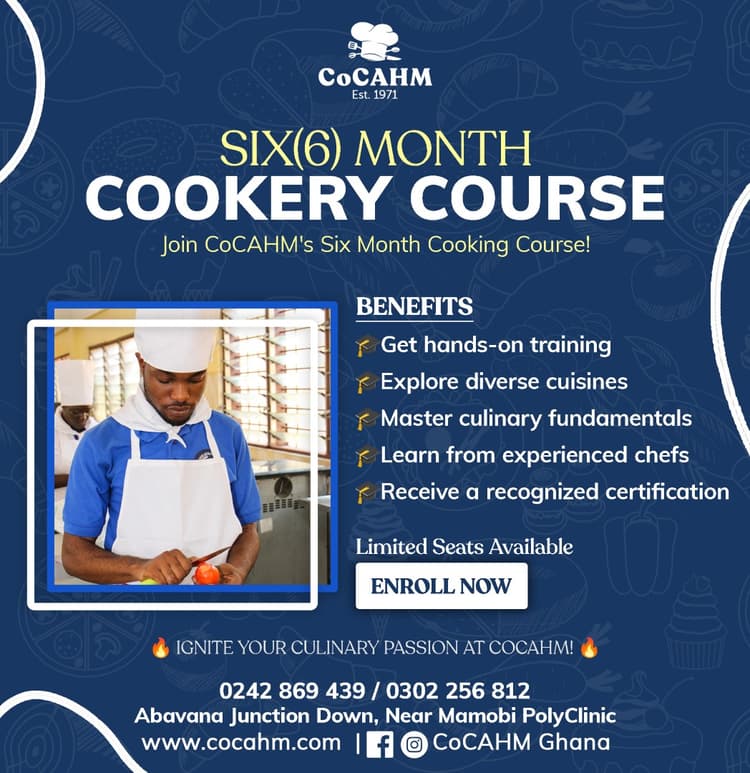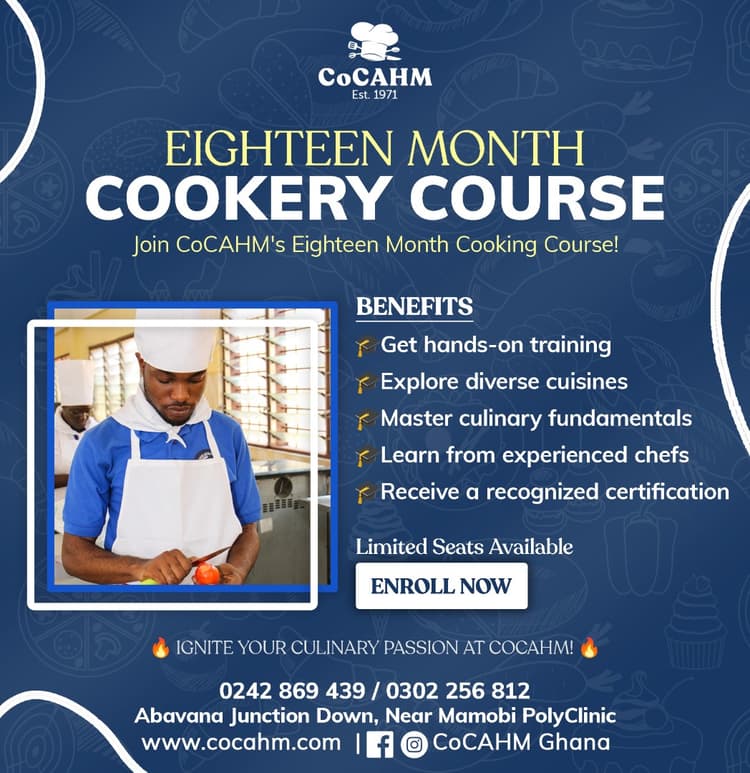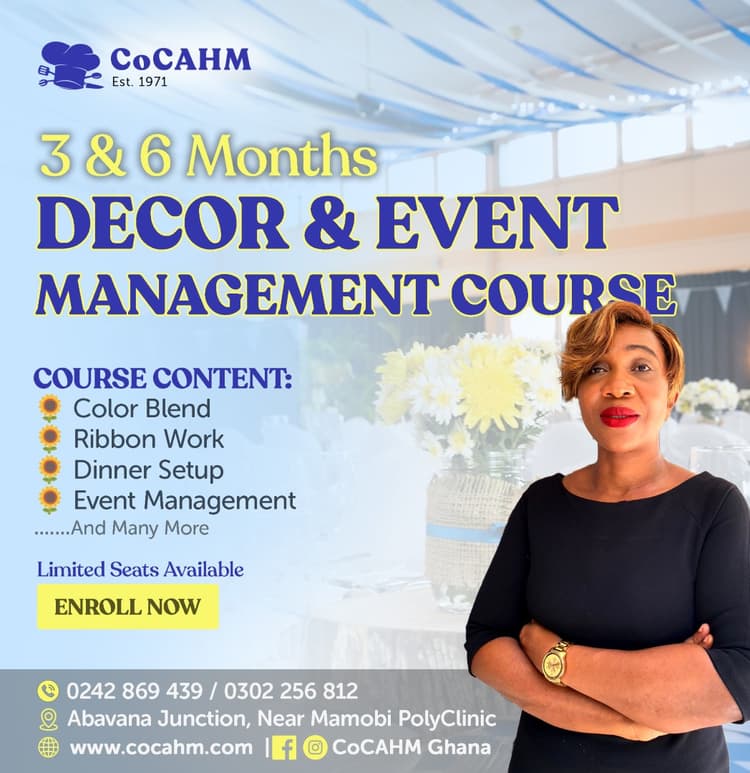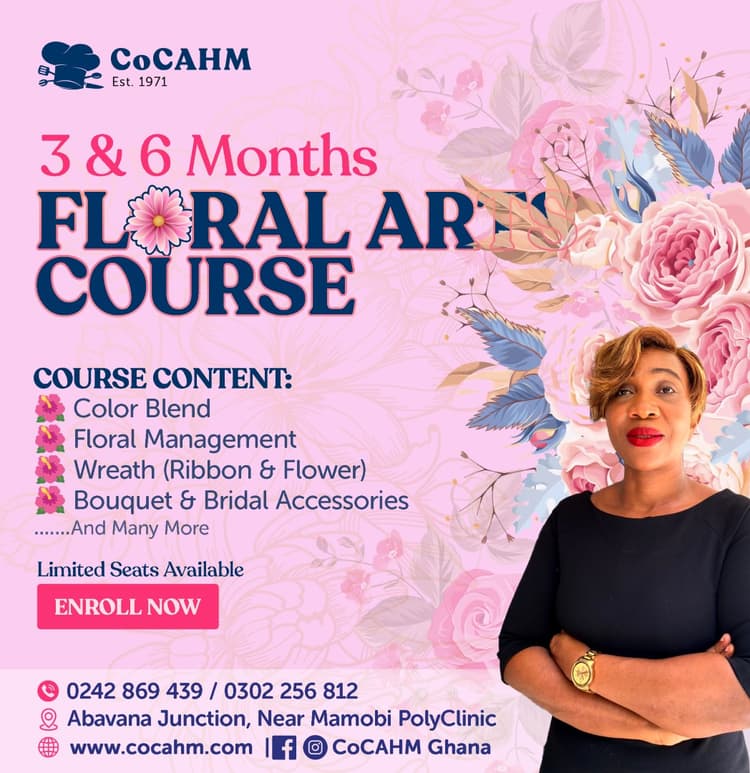 Why Choose CoCAHM
Our many qualities makes us unique in the culinary world of diverse factors, including:
Passionate Faculty
Our dedicated chefs and industry experts are eager to share their knowledge and mentor you.
A Legacy of Excellence
We've been at the forefront of culinary education in West Africa for 50+ years.
Global Flavors, Local Heart
Discover the world's cuisines while celebrating Ghana's culinary heritage.
Cutting-Edge Facilities
Our kitchens are your playground, equipped with top-notch culinary tools.
Industry-Recognized Success
Your CoCAHM certification opens doors to thrilling career prospects.
Join Us in Shaping the Culinary Future
CoCAHM isn't just a college; it's a vibrant community of culinary enthusiasts, professionals, and innovators. We invite you to explore our programs, meet our esteemed faculty, and discover the endless possibilities that await you in the world of culinary arts and hospitality management.